COC presents new mounted bearing units with innovative designs and features to handle the world's power transmission needs.
Contact Seal Protection: COC original designed seal maintains positive contact with the flingers at virtually any angle of shaft mis-alignment up to +/- 2°. The stainless steel flinger shields the seals and bearing from contamination and damage. Learn More
CROSSLOC™ & SN HOUSING: COC new adapter locking system with SN dimension housing is a unitized replacement for standard SN split housing units. It's a great off-the-shelf solution you can save the time and money. 100% interchangeable with competitive SN products. Our SN are shaft ready units that are factory sealed, pre-lubricated, and assembled. Learn More
CX2SN vs. SN5: check out the comparison of CX2SN and SN5 bearings on the link: www.crossocean.com/cx2sn-vs-sn5/
Scan QR code with your phone: Every single COC housing has a unique QR code with both the web link and serial number of the product, which will help you to check installation instructions and use our warranty. Learn More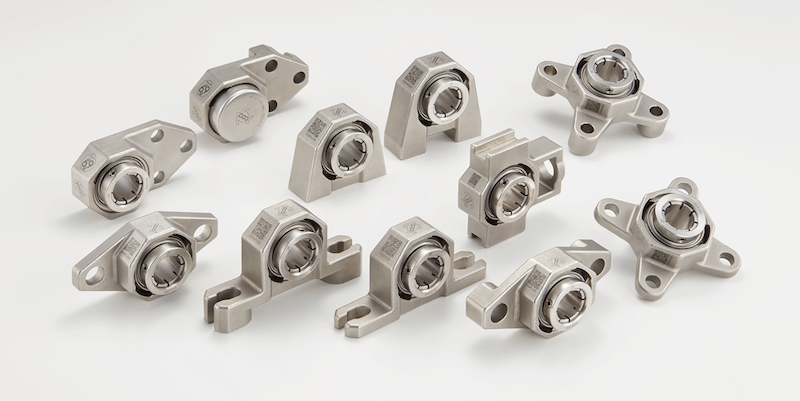 Saniline washdown ball bearing units are designed for the ultimate in food safety. This is a sanitary food grade design for HACCP/HARPC compliance. Learn More
IP69K certified: COC 100% stainless steel washdown ball bearing units have achieved IP69K certification and our relubrication-free solution for food safety programs.
Lubricated for life with NSF approved H1 food grade grease, this maintenace free solution allows for better cleaning of machinery and more up-time. COC's sealing system with stainless steel flinger is designed to withstand frequent high pressure washdowns.
Stand-off housings: Ideally a smaller area of connect with the machine is a better way to eliminate bacteria harborage and our stand-off housings allow for clean-in-place (CIP) operation.
OCCLOC™: COC's original OCCLOC™ doesn't make any marks on the shaft and can clamp onto undersized commercial shafting. The shaft can be very clean without any damage from the bearings. Learn More